Label and Publishers:OTF Recordings
The folk-rock band McDermott's Two Hours was formed in Brighton in 1986 from the remnants of two other bands The Bliffs and The Crack and featured a vigorous line up of vocals, fiddles, whistles, bouzouki, acoustic and electric guitars, drums and bass.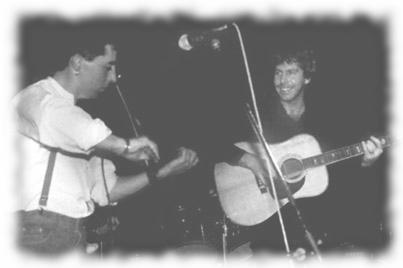 'The unusual moniker was derived from a hippy called Tommy McDermott, who enjoyed two hours of disc-jockeying notoriety on Radio Free Derry in the late 60s' riots, telling everyone ... to "keep cool an' love one another" and playing The Incredible String Band'. (Jerry Gilbert, Folk Roots)
Singer-songwriter, Nick Burbridge, had been playing Irish-influenced acoustic music since his teens with musicians like Jim McHale, Geoff Coombs and Anthony McCartan (later in Churchfitters) and stalwart session players, Mandy Murray, Roger Leach and Will Flewett. During the seventies he worked in Europe in a band called Bluebell's Anus, busking between gigs with The Fureys, Dougie MacLean, and many others.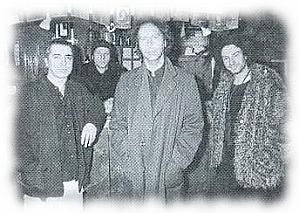 In 1978 he began a long association with Tim O'Leary, playing in sessions and folk clubs in England. They released a cassette, Cockaigne with Tim's brother Christy, (whistle player and Uilleann piper with De Danaan and Boys of the Lough).
Tim went on to have a vital role in McDermott's Two Hours as an inimitable multi-instrumentalist and writer of tunes, which have been recorded by folk artists across the scene, from bands like Boys of the Lough, and Patrick Street, to solo players like Claire Mann.