On this first new band album since Goodbye To The Madhouse in 2007, Nick Burbridge is joined by Simon Friend and Jeremy Cunningham from The Levellers, Dil Davies and Al Scott from Oysterband, along with usual suspects Ben Paley, Tim Cotterell and friends, to produce a relentless and inimitable album of folk/rock/punk music which places McDermott's Two Hours immovably at the heart of all that has happened in this genre, while still full of biting contemporary references and adding strains of lyricism and tenderness not usually discovered there.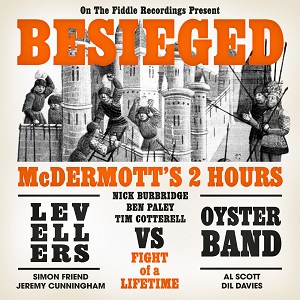 Produced by Al Scott, Tim Cotterell and Jeremy Cunningham, and released by OTF Recordings, it represents the zenith of the band's long, intermittent history.
Release Date: 8.2.19
The album will be available from www.levellers.co.uk and through mainstream distribution.
Some of the best music of the last thirty years wouldn't have existed without this band (RnR)
If you've read any of my reviews of Nick Burbridge and McDermott's 2 Hours albums in the past then you will know I rate him as one of the best songwriters (Spiral Earth)
This album has everything you'd want from a folk album (London Celtic Punks)
These are songs of the diaspora experience – direct, uncompromising, but no less shot through with their own mythologising of the narrative of innocence and experience (folk radio)
A call for solidarity in the face of oppression (fatea) .