Associate Directors: Aine King, Orit Azaz, Amanda Bishop, Rose Ryan, Gareth Machin, Peter Thomson
Administrator: Gill Burbridge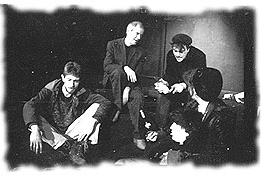 Tommy McDermott's Theatre started life in Brighton in 1989 to produce articulate and physical theatre particularly devoted to exploring the experiences of those living on the margins of contemporary society. Nick Burbridge has been writer-in-residence since its conception. The company has worked with many local actors, directors and technicians, as well as collaborating with other organisations in and outside the local region.
Nick had already spent many years involved in street theatre and experimental arts groups across Europe. In 1985 he worked with the highly acclaimed Bright Red Theatre, rewriting and scoring their version of Don Quixote, and the following year they created a double bill of Nick's own plays, Neck and Cutting Room. These productions were premiered in Brighton before touring nationally.
[ Reviews: Neck & Cutting Room ]
Brighton Actors Theatre produced another double-bill, Acts of Violence directed by David Lavender, at The Nightingale in 1990, which developed similar themes.
[ Reviews: Acts of Violence ]
TMT's first production was Women, at the Marlborough, Brighton, in 1989: a one-woman show with Aine King, incorporating visual art and original music.
[ Reviews: Women ]
After an invitation to writers' workshops at the Soho Theatre Company with Mark Ravenhill and Jack Bradley, Nick wrote Binliners for TMT: a trilogy of black comedies (Vermin, Cock Robin & Scrap) focusing on particular forms of displacement.
[ Reviews: Vermin ] - [ Reviews: Cock Robin ] - [ Reviews: Scrap ]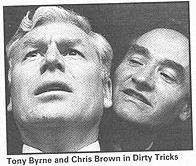 Nick was invited by the Soho Theatre Company to contribute to "A Round" a series of nine one act plays produced at the Cockpit Theatre involving writers such as Diane Samuels, and directors Mark Ravenhill and Orit Azaz. Dirty Tricks was later produced by TMT in collaboration with The Common Sense, a company specialising in multi-media performances, in the 1993 Brighton Festival at the Pavilion Theatre.
[ Reviews: Dirty Tricks ]
[ TMT's Theatre in Education & "Intruder" ] - [ Radio plays ]
Hard Chair Stories - Otherplace Productions Hard Chair Stories was produced at Bankside's historic Rose Theatre then transferred to the 2008 Brighton Festival. "Four chairs, three stories. The multi-awardwinning Nicholas Burbridge returns to the Fringe with a compelling drama of interwoven monologues that reveal the dark and absurd underside of life. Gritty, powerful and often painfully funny, these are absorbing tales of normal people living abnormal lives. Directed by Aine King"
[Fringe brochure]
A sequel, Sitting Ducks, was scheduled for the 2010 Brighton Festival, but, in the event, made way for an Edward Bond play, and awaits production.
[ Top of page ] - [ Site-map ] - [ Home page ] - [Music] - [ Prose] - [ Contact ]