[1:Introduction] [2: Early days] [3: With the Levellers] [4: Live again]
[5: "Goodbye To The Madhouse"] [6: "All Kinds Of Disorder"] [7: "Anticlockwise"] [8: "Resolved"] [9: "Besieged"]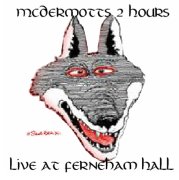 A live album of Nick Burbridge's songs is now available: McDermott's Two Hours - Live At Ferneham Hall, which, like other albums, critics have taken to their hearts. Copies are obtainable by contacting this website.
"as much a sampler for the consistency and strength of Nick's writing as anything else...for the McDermotts novice who might've wondered why critics have been raving about them, but also a memento for the cognoscenti. It's the sheer energy and drive - if all folk-rock were like this, then the beast wouldn't be lumbering along half-dead in cosy parentheses on the Mike Harding programme would it? - the unbridled atmosphere of the McDermotts gig...this record's a stonker"
(David Kidman, netrhythms) - read the full review
"While the D.I.Y.-ish cover of Live at Ferneham Hall gives the appearance of a bootleg there is nothing bootleg or D.I.Y.-ish about either the music or production on this superb live CD from one of the most influential Celtic-folk-rock bands of the 80's (ask The Levellers). If you're unfamiliar with past works of this Brighton, England based Anglo-Irish quintet then think Bragg, Moore (Christy of course), Strummer and of course MacGowan and the Pogues and not as mere imitators but as peers." (shite'n'onions)
Listen to an MP3 of Fox On The Run from the live album [hosted at greenmanreview.com. You can also read an interview by Cat Eldridge at Green Man Review]
In another welcome development, a McDermottís Two Hours section has been added to the Alternative Levellers Message Board - all messages there are read by the band.
Look out for Nick's article, 'Off The Road' in Songbook, Issue 8 and his song Prisoner, as one of the B sides on the Levellers' single Make U Happy. While McDermott's Two Hours continue to gig when commitments and incapacities allow, Nick and Ben Paley can still be found in a session most Sunday afternoons at the Bugle Inn, Brighton.